Rayson Huang Lecture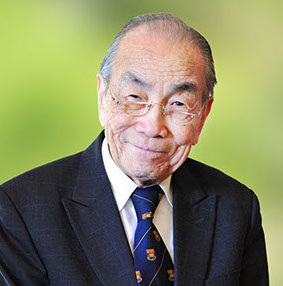 In 1986, friends and colleagues of Dr. Rayson Huang contributed a sum of $2.5 million on the occasion of his retirement to establish a Rayson Huang Endowment Fund for the support of scholarships in Music and Chemistry. The Endowment Fund, from its annual income, provides for the Rayson Huang Scholarships in Music and Chemistry, and for the Rayson Huang Visiting Lectureships in Music and in Chemistry.

In the Department of Music, the annual Rayson Huang Lecture features an outstanding international scholar, composer, or performer who remains in residence at the Department of Music for one to two weeks. Besides presenting a public lecture or concert in the Rayson Huang Theatre, the visitor also participates in the Department's research and teaching activities, such as conducting workshops, giving classes, and meeting with postgraduate students.

As a distinguished chemist who was conferred the degree of Doctor of Science honoris causa from HKU in 1968, Dr Rayson Huang was the University's first Chinese Vice-Chancellor, the first alumnus to hold the position and also one of the longest serving. Under his leadership from 1972 to 1986, the University experienced an unprecedented period of growth by doubling the size of student body from 4,000 to 8,000, increasing the number of Faculties from five to nine, expanding the size of the campus while unifying it, and initiating a culture of institutional advancement that continues to flourish today. In recognition of his contributions to the University, a bronze statue of Dr Huang commissioned by Dr the Honourable Sir David Li was crafted and installed in the foyer of Rayson Huang Theatre in 2005.
‍
Rayson Huang Fellows to date include:

2021/22
2020/21
2018/19
Georgina Born, Oxford University
‍
2017/18
Alexander Rehding, Harvard University/The University of Hong Kong
‍
2016/17
John Butt, renowned conductor, organist, harpsichordist, and scholar
‍
2015/16
Krzysztof Penderecki, Multi-award Winning Polish Composer
‍
2012/13
Claudia Gorbman, University of Washington Tacoma
‍
2011/12
Laurence Dreyfus, University of Oxford
‍
2010/11
Andrew F. Jones, University of California, Berkeley
‍
2008/09
Carolyn Abbate, University of Pennsylvania
‍
2007/08
Steven Mithen, University of Reading
‍
2006/07
Jerrold Levinson, University of Maryland
‍
2005/06
Nicholas Cook, Royal Holloway, University of London
‍
2004/05
Edo de Waart, Artistic Director and Chief Conductor, Hong Kong Philharmonic Orchestra
‍
2003/04
Jeffrey Kallberg, University of Pennsylvania
‍
2002/03
Philip Tagg, University of Montréal
‍
2001/02
Anthony Seeger, University of California, Los Angeles
‍
2000/01
David Del Tredici, City University of New York
‍
1999/00
Christian Kaden, Humboldt University, Berlin
‍
1998/99
José Maceda, University of the Philippines, Quezon City
‍
1997/98
Meredith Monk, The House Foundation for the Arts, New York
‍
1996/97
Qiao Jianzhong 喬建中, Research Institute of Music, Beijing
‍
1995/96
Susan McClary, University of California, Los Angeles
‍
1994/95
Neal Zaslaw, Cornell University
‍
1993/94
Steven Feld, The University of Texas at Austin
‍
1992/93
Melvin Tan, Keyboard Virtuoso
‍
1991/92
Kofi Agawu, Cornell University
‍
1990/91
Peter Fletcher, Music Education Consultant
‍